Mold-Town has a knowledgeable and experienced team of engineers to help you with the engineering side of your project. With over 20 years of combined experience in plastics engineering, design, and manufacturing custom injection molds, we can assist with material selection, part design, and tooling recommendations.
Plastic Injection Mold Design
One of the critical elements that must be considered when designing parts for injection molding is the manufacturing process. The injection molding process uses solid thermoplastic resin pellets, which are melted and injected into a mold and then cooled to create a new shape or form.
There are several factors of both the injection and cooling stages that affect the quality and repeatability of the manufacturing process. It's not always possible to follow every recommendation, but some fundamental design guidelines will ensure the success of your injection-molded product.
Regardless of your knowledge and experience designing parts for injection molding, establishing a relationship with an experienced molder will streamline the design process. Molders each have their unique tooling preferences and techniques for producing parts that can significantly affect the design specifications of the piece. At Mold-Town, our team of experts considers several selections and parameters when we design molds and offer unique solutions to your product problems.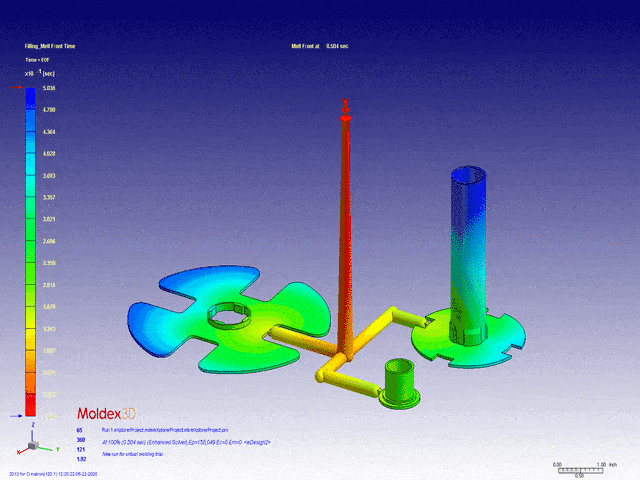 Working with information age technologies and advanced mold-making processes, Mold-Town is able to quickly respond to your tooling needs and produce precision, custom injection molds in the shortest time period. We work with you to analyze your projects to identify cost-saving opportunities as we integrate quality and confirm manufacturability.
Mold-Town can work with a variety of CAD formats, including:
Unigraphics NX
SolidWorks
Pro/E
AutoCAD
MoldFlow
Over the years, 3D CAD systems, such as Unigraphics NX, have become more integrated into design and manufacturing processes. Plastic injection molding is no exception. Industrial designers use 3D CAD to make ergonomic and aesthetic contours that would be next to impossible to communicate in 2D drawings. Modern toolmakers must use 3D models to make the mold cavities. Mold-Town has extensive experience using Unigraphics NX to design and build molds for plastic injection molding.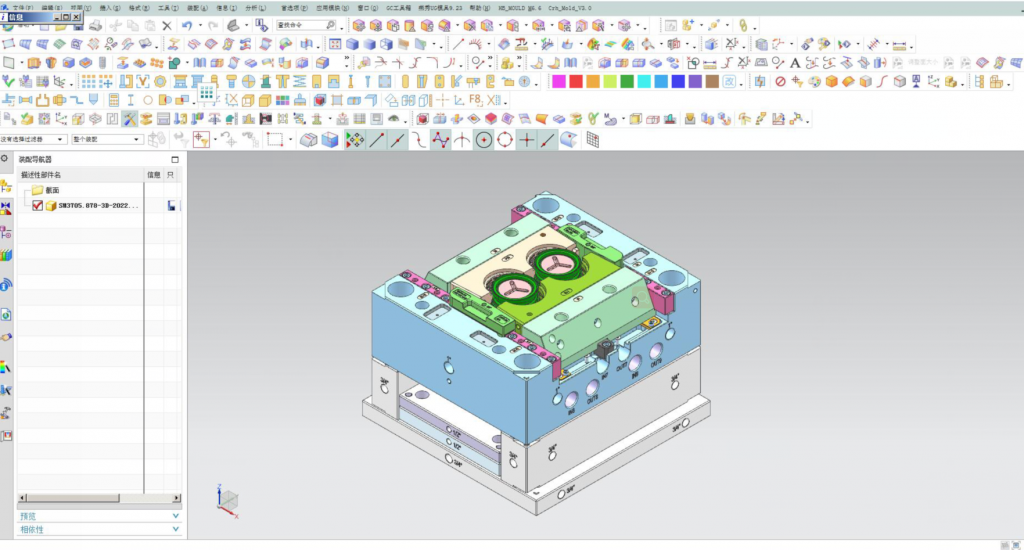 In addition, we use universal formats such as:
IGES
STEP
DXF
DWG
Parasolid (x_t)
We also work with your drawings, sketches, models, parts, or existing molds to align with our unbeatable quality and service!
Reviewing the mold design is complex and often time-consuming but critical. A careful review requires several steps to ensure essential details aren't overlooked. At Mold-Town, we use a streamlined mold review process proven to cut the review time by as much as 50%.
Overview
To determine the type of mold that needs to be built, our engineering team will consider the required tonnage and the estimated mold weight, in addition to cavitation, mold construction, and tiebar distance.
Parting Lines
The parting lines of the product, including the shape, quantity, parting sequence, and parting method, need to be defined before the engineering team can consider all other aspects of the part's design and manufacturing.
Injection
After the parting lines have been established, and the orientation of the part in the mold is decided, the engineering team must determine the type of injection process to use. They'll consider the type of injection, hot or cold, as well as the gate type, size, and location.
Venting
An assessment of the venting requirements, including the size and the location of vents, ensures that air can be removed from the mold.
Cooling
Next, the engineering team calculates an adequate cooling time and method to fit the project specifications.
Ejection
When the plastic component in the mold has cooled sufficiently, the part is ejected from the mold. The appropriate ejection method depends on a variety of factors, including the number of ejection stages, whether it will be accomplished by pushing or pulling, the surface contact between the pins and the mold, the required clearance, and the desired mechanical properties.
Closing
After the part is ejected from the mold, the mold is closed and the process repeats. To close the mold properly, the technician must consider the ejection sequence, potential impediments, and the ejector system return method. They should also double-check the mold alignment.
Handleability
A comprehensive review of the mold design also includes an analysis of change-out of components. Our engineering team should inspect wear areas and interchangeable areas.
Safety
Finally, the mold review includes an overall assessment of the necessary safety precautions for the fabrication and part processor. Technicians follow all maintenance and disassembly directions, as well as confirm if there are sufficient clamping slots and eyebolts.
What Can Mold-Town Do For You?
At Mold-Town, our highly skilled team has over 20 years of combined experience designing, developing, and manufacturing custom injection molds and support tooling. Our state-of-the-art manufacturing facility offers complete technical and engineering support to create durable molds that are easy to use and provide exceptional consistency. Our team of experts is available from the part conception and design to engineering and mold-making. To learn more about injection mold design at Mold-Town, contact us today.